Corn Flour Processing Machine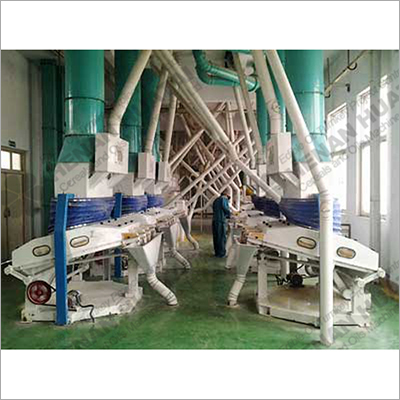 Corn Flour Processing Machine
Product Description
Corn Flour Processing Machine
Being a reliable organization, we are supplying a huge assortment of Corn Flour Processing Machine. It is ideally used to increase the product value and solve problem in agriculture sector. In addition to this, provided machine aids to sort the energy issue by utilizing corn as an alcohol. Corn Flour Processing Machine is mainly suited for small scale agriculture purpose. It is suitable in fermentation, chemical, alcohol, citric and many other industrial sectors.
Corn In-depth Processing Plant
Type: Dry milling method, maize/corn flour and grits milling process
Process material: Maize/Corn
Capacity: 2-2000T/D
Main Equipment: Grain cleaning equipment, maize flour milling machine, maize hulling machine
Application: Dry and fine milling maize/corn into maize grits and super fine maize flour by complete set of maize flour, grit milling machine
General process flow:
Cleaning, Stone removing, Metering, Magnetic, separation, Peeling, Degerming, Germ separation, Gritting, Sifting and grading, Purification, Flour grinding, Sifting and grading, Packaging
Process feature:
1. Dedicated degerminator can ensure corn kernel has less broken after degerming, and the rate of the finished product grits.
2. This matched and improved degerminator can make sure to produce high purity and have no germ lost from the corn kernel.
3. The fair use of purifier will further improve product flour yield.
New type fully dry corn-processing and Old type semi-dry corn-processing summary:
a. Fully dry method processing: Craft is never add any water in the production process.
b. Semi-dry method processing: Craft is the raw unprocessed grain will have 3-4% water, which will have 30-120 minutes interval time for moisturing grain in the production process.
c. Wet method processing: Craft is the unprocessed grain will keep soaked in water for dozens of hours in the production process.
Fully dry method processing craft:
1) Process design: The processing equipment will use different process, with a combination of weather conditions and corn/maize varieties. The indicators will be ensured by the whole process system, that does not mean one machine ensure the production efficiency and product quality.
2) Quality: High embryo yield with high purity, high corn grits yield with good color, high quality product corn flour, low inferior-quality corn flour, hide powder feed rate;
3) Equipment support: Germ yield 6%-8%; Grade grits 36-45%; Feed peel 22%. Sifting equipment, main and auxiliary equipment configuration, one thousand kinds of material balance, special Germ machine structure, special election embryo structure, wind, air pressure, batching system structure, clear pink Vice materials, purification, fine purification, polishing, granulation, suspension, mill technical parameters, etc.
Contact Us
B No.1, Cuizhu Street High-Tech Zone, Zhengzhou, Henan, 450000, China
Phone :+8618317721166