Sunflower Oil Extraction Plant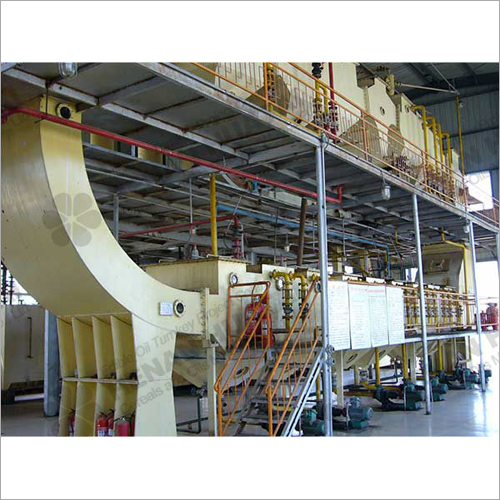 Sunflower Oil Extraction Plant
Product Description
Sunflower Oil Extraction Plant
We are able to supply a unique processing of Sunflower Oil Extraction Plant. It is manufactured under the supervision of skilled team workers who work in coordination and peace. This system is useful to remove the solvent in mixed oil. Sunflower Oil Extraction Machinery is easy to produce the mixed oil without adding any harsh chemical solvents. It is best suited for start-up firms.
Sunflower Oil Extraction Plant
Type: Crude oil extraction line from sunflower seed
Processing material: Sunflower seed
Capacity: 2-5000T/D
Sunflower Oil Solvent Extraction Process characteristic:

1) Extraction process act as mass production processing adopting mature rotocel extractor, DT desolventizer toaster;
2) Meal-fine stripping system can avoid its coming into the 1st stage evaporator and 2nd stage steam, so ensures the efficiency of thermo-conductivity and evaporating;
3) Reasonable layout, convenient for operating and management.
Technical characteristics of equipment:
This design considers the current advanced technology, client's long-term operating practice in the future. The basic principles of design are safety, reliability, energy saving, economy, low failure rate, easy to maintain, long life. The detail is listed as following:
Rotocel extractor: Frequency conversion can adjust the speed of cell or capacity.chain driven makes the operation stable and safety. Stainless steel fixed plates are used, thus extractor has large surplus capacity, it is helpful to expand capacity in the future. Cycling solvent pumps have large flux, low head, good sealed, low cost, low noise, stableness.
DT desolventizer toaster:
a. With fit steam praying method, lowering the temperature of exit vapor, largely saving steam;
b. Under the stage of air-tight, distributes direct steam with uniformity, it can make the solvent residue of final meal lower than traditional equipment;
c. In each part of the equipment, meal has the same staying time, so the quality is unified;
d. Vapor temperature can be automatic controlled by adjusting the flow rate of direct steam.
Stripper: De-solvent capacity is high, and can avoid the case of solvent residue fluctuating due to the instability of vapor; thus, volatile in crude oil is largely reduced. The equipment can help to ensure the safety of refining plant. Trays are connected with flanges, easy for maintenance.
Contact Us
B No.1, Cuizhu Street High-Tech Zone, Zhengzhou, Henan, 450000, China
Phone :+8618317721166